Will there be more 'History' for One Direction?
Warning: I am about to detail the frenzied life of a complete 1D fangirl. I'm a fan who has posters on her wall and a "What makes you beautiful" decal above her dresser. A fan who had her father drive her to San Diego and back on the same day just to see 1D live for a few hours. A fan who swears Harry Styles blew her a kiss and made all the boys turn and look at her while Styles performed live. 
If you can recall 2013 in any way, you can probably remember "One Direction: This is Us," the movie that left all teenage girls in tears. The movie follows the teenage heartthrobs Harry, Liam, Louis, Niall and Zayn. With its re-release on Netflix on Oct. 1, conversations exploded about 1D, including speculation that the band might reunite.
But before we dive into "One Direction Infection" and prove they will return, let's discuss their rise to success.
On July 23, 2010, at 8:22 p.m., four British lads and one Irish fella formed 1D. Simon Cowell witnessed the boys audition on  "X Factor" as solo artists and got the fabulous idea to put them into a group and have them compete as a unified tour de force. Little did Cowell know that these teenagers would take the world by storm.
These five boys ventured out on three spectacular world tours: the "Up All Night Tour" in 2011-2012, the "Take Me Home Tour" in 2013 and the "Where We Are Tour" in 2014. After the beloved Zayn Malik left in 2015, the rest of the boys took one last trip around the world on their "On the Road Again Tour" in 2015. 
Beyond the tours, we cannot forget the many iconic TV moments 1D gave us as well. I will never forget the time I woke up early and recorded the entire "Today Show" just to see One Direction perform for 10 minutes and have a brief interview after. Or the time I somehow found an entire concert on TV from when 1D played in a foreign country and I recorded the whole thing so that I could pretend I was at their concert every single weekend. 
As any true Directioner would know, the first album released by 1D was "Up All Night" in 2011. The original upload on Spotify consisted of 15 fantastic songs. These life-changing songs got my typically dramatic self through some rough times. I would play "Gotta Be You" when I thought I was suffering from heartbreak, "Up All Night" when I needed to dance out problems like getting into a fight with my siblings and "What Makes You Beautiful" when I needed to be reminded of my roots, because that was the song to convert me into a Directioner. 
Many Directioners can also recall the joys they experienced when the One Direction movie played in theaters around the world in 2013.  Those who did not get the opportunity to witness the iconic movie can now experience what it was like to be a Directioner in 2013, because Netflix released the movie for streaming on October 1. We can now constantly view the highlights of "This Is Us," such as Harry Styles working in the bakery, the boys attempting to go camping, Zayn buying his mom a house and the time the boys tried dancing even though they have no rhythm. The moment I found out Netflix would be showing the movie, I alerted everyone in my presence and started an uproarious rendition alongside my classmates of "Best Song Ever." 
"One Direction: This Is Us" perfectly sums up the emotional rollercoaster of being a 1D stan. The movie gets a little emotional when it goes into the boys' past life and when the boys are on the phone with their families. It gets crazy when the boys steal a security golf cart and drive it around an entire stadium. It gets overwhelming when the boys' parents talk about how proud they are and, one shot later, fans are literally screaming and crying tears of joy upon seeing the band live and just breathing in the same air of a shared room. 
Not every boy in the band was satisfied with the band's sound, though, hence one of the worst days of being a Directioner: March 25, 2015. In a statement released on Facebook, Zayn said he was "stressed," which is why he felt the need to take his own path apart from One Direction. I found out in my seventh-grade classroom, and I burst out in tears right then and there. I went home and proceeded to call my mom (she deems being there for me as her best parenting moment) crying that Zayn had left 1D. An official Instagram post went up on my account later that day expressing the devastation I felt over his departure. Zayn's leaving the band would later cause a "hiatus" for the rest of One Direction.
As of press time, we are now on day 1,415 of this terrible hiatus.   
Why would a surge of releases come around if 1D was really over? I mean, you put stuff out there to gain attention or even to have an article published about your band. Basically One Direction is whispering in our very ears that a reunion is coming our way. They are warning us to start saving our money so we can go see them again!
To further my suspicion that a reunion is coming our way, on Sept. 27, 2019, old One Direction songs were added to their "Up All Night" album on Spotify. If you know me, you can literally hear my fangirl scream echo throughout Pasadena. The classic songs — "Na Na Na," "Another World" and "I Should Have Kissed You" — were added to Spotify for the world to enjoy. On top of this, 1D gave "Up All Night" a new album cover, which caused even more of my screams to echo throughout Pasadena. 
With One Direction becoming relevant again due to a recent upload of their movie on Netflix and songs on Spotify, I have decided that the conspiracy that One Direction will be getting back together is true. If new songs being added to their Spotify and their movie being added to Netflix doesn't make you believe my conspiracy, I am here to remind you that the band promised they would come back. Liam Payne, a former member of One Direction, said in an interview with Wired in Sept. 20, 2019 that it is not a matter of if they will get back together, it's when. So prepare for the best boy band of all time to take over the world once more.
I personally cannot think about One Direction without praying that the next day they will announce their resurrection. Liam Payne has said that it is not a matter of if One Direction will get back together, but when.
For now, though, all I can do is wait, and as much as I would like to say that I will not wait another 1,385 days, I totally would. So, One Direction, if you see this, please get back together soon.
Leave a Comment
About the Writer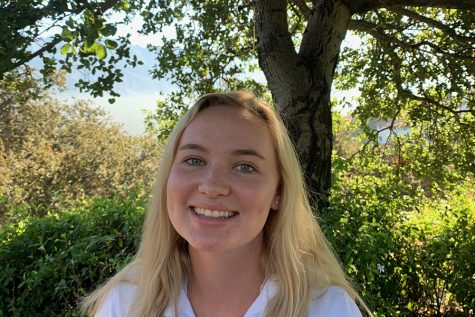 CJ Huston, Arts and Culture Editor
CJ Huston is the arts and culture editor for the Veritas Shield. She began writing for the paper as a junior in 2018. CJ serves as the president of the...