Time measured in New Music Fridays
To some, Friday may mean the weekend, but to me it means more than that. It means the New Music Friday playlist on Spotify has been updated with a completely fresh lineup of music that has been released within the past week.
For me, listening to this playlist leads to a hyper-awareness of the constant release of new music. It seems that I always know what just came out, and I either love it or hate it. These feelings come from the almost impossible ability to be oblivious to the progression or change of artists' sound. A new single or album has the power to completely make, break or continue an artist's career.
This progression could be for the better or for the worst. I mean, think about it: does anyone really like Katy Perry's "Witness" album? No, but do we all love the "Teenage Dream" album? Yes. But how does an artist in 2019, with the constant pressure to remain new and fresh so as to be included on New Music Friday, remain authentic and evolve at the same time?
I propose we examine three examples for how artists evolve (or don't evolve) over time.
One of the most visible artist changes that I have witnessed recently is the evolution of Clairo. Clairo is a 21-year-old singer-songwriter who is known for her breakout hits "Pretty Girl" and "Flaming Hot Cheetos," which she released in 2018 on her ep "diary 001." Let's be honest, these songs sound like they were made on a MacBook Air with a plug-in keyboard in a suburban teenage room. But, that is what people love about them. In fact, the music video for "Pretty Girl" was shot on a laptop and features Clairo just sitting on her bed singing along to her self-produced song. Clairo makes for a breath of fresh air from the slick production of Taylor Swift, who basically enlisted the entire LGBTQ+ community for the "You Need to Calm Down" video. Swift's type of media value and production is what the expectation is for artists in the industry, but Clairo is doing the opposite and it's working. 
"diary 001" is a great ep that is a fair representation of the genre of Bedroom Pop, but with the release of Clairo's first studio album, "Immunity," the artist is headed in a new direction. Clairo is now a full-blown Indie artist. On the song "Bags," Clairo moves past the same three chords on loop, which is probably for the better. "Bags" is full of complex lyrics that, with the help of the release of a Rap Genius video about it, quite honestly brought me to tears. The singles that were coming out just kept on getting better and better, and trust me the album does not disappoint. "Immunity" is an extremely well-produced album. Tracks like "Feel Something" and "North" stick out to me the most, because these songs truly showcase the talent that Clairo has that wasn't being shown in earlier songs like "4EVER" and "Bubblegum." Not only do the lyrics improve in depth and meaning, but the music has gotten more authentic. Clairo really went from pressing some buttons on a Mac to having a full-blown choir close out her debut album, and it shows. 
Now on to an artist who has demonstrated quite the opposite of the "Clairo effect," Shawn Mendes. Look, I can respect his Magcon roots, but he has quite literally been releasing the same song for five years straight. Sorry, but I cannot tell the difference between "Stitches," "If I Can't Have You" and "In My Blood." Now, I used to really enjoy Mendes. As a 13-year-old, songs like "Life of the Party" and "Aftertaste" really resonated with me. I thought Mendes was giving pop the acoustic spin that it needed. But after he released three whole albums with that same heartfelt, he-wants-to-be-called-"Señorita" sound, he started to get a little old. Not only did the music sound the same, but there was no lyrical development. The narrative in his music always played out the same: a heartbroken boy is sad, because some girl doesn't like him back. This storyline is quite literally the same in six out of his 10 most listened to songs on Spotify, with the remaining four straying only slightly. I'm not saying that I don't like Shawn Mendes. Who doesn't appreciate a good-looking boy who can sing and play the guitar? But his music just isn't exciting anymore; whenever I hear that he's dropped a new song, I realize there really is no point in listening, because it probably sounds just like the last one. 
Change isn't always necessary, though. Lana Del Rey hasn't changed a bit, but unlike Mendes, what she's doing is simply trailblazing for every alternative artist out there. We would not know Billie Eilish, Lorde or Halsey if it were not for Del Rey. 
Lana has released a total of six studio albums (not including her unreleased tracks or her short career as "Lana Del Ray"). These albums are all similar in the way that they have her distinct sound of a melancholic sultry messiah. Whenever a Lana track comes on, it is very clear that it is her. I would say that each album is influenced differently;  "Ultraviolence" was tailor-made for listeners in a grunge phase because of its heavy influence of rock and alternative, while "Lust for Life" displays the beautiful intersection of a wide variety of genres: the track features artists that range from Stevie Nicks and Sean Ono-Lennon to The Weeknd and A$ap Rocky.
In comparison to Clairo, Lana did not need a few test runs to make it big in the industry. But Lana did go viral for the same "filmed on a laptop, self-production" video for her first big single, "Video Games," released way back in 2012. She did not struggle to gain a fan base, she was simply able to do craft a sound no one had heard before and made people love it. "Born to Die," her debut album, which is still charting on the Billboard 200 seven years after its release, has an alternative sound with indie influences, but truly sounds like no one else. This distinct sound combined with the classic narrative of smoking cigarettes and being in toxic relationships is something that Del Rey has mastered.
Del Rey's lyrics have always been comparable to poetry. She has never lacked depth or meaning. Because of the fact that she got it right the first time, she doesn't need to have the jump from good music to great music like Clairo and unlike Shawn Mendes. Her music has always been great. The release of her newest album, "Norman F****ing Rockwell," really just consolidated this fact. This album was exactly what we expected and we craved it. 
So maybe in a future New Music Friday, we could find out that Shawn Mendes will find better inspiration, Clairo will keep doing what she's doing and Lana will never change. New Music Friday will keep on coming out, so we might as well acknowledge the changes or lack thereof that artists are making.
Leave a Comment
About the Writer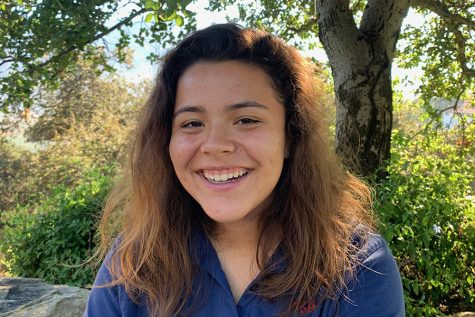 Cerys Davies, Editor-in-Chief
Cerys Davies is the editor-in-chief. She started writing for the Veritas Shield in 2017. Her sophomore year, she was the section editor and advertising...