Varsity tennis a family affair: Garritys step onto the court
Mother and daughter duo, Meghan Garrity '23 and Coach Amy Garrity, have taken varsity tennis by storm. The Garritys, along with several seasoned players and Head Coach Ron Zambrano, are helping FSHA tennis toward its goal of surpassing last year's second place trophy and winning a league championship.
Meghan Garrity has come in hot this season, as she, as a freshman, is already the team's number one singles player. 
"Meghan is a really good player. She has an awesome competitive spirit and she puts in 100% every time she plays. She is great to have on the team," teammate Megan Sullivan '20 said.
The team has loved having Garrity's mom, Coach Garrity, as a member of the team this season as well. A former college tennis player at LMU, Coach Garrity has been great at helping the girls improve their technique as well as keeping them stay motivated throughout their matches. 
"Coach Garrity always comes on to the court during matches to help us strategize and keep our energy high," Hayes Sullivan '21, the team's number one doubles player, said. 
For Meghan Garrity, having her mom as a coach is nothing new, but she prefers to strategize independently.
"I usually don't like talking to my [mom] before matches, because she stresses me out. She gets nervous to watch me, also," Garrity said. 
Coach Garrity has loved coaching the Tologs so far.
"It has been a pleasure working with the girls this season. My goal for this year was to make every girl a better tennis player, starting from the start of the season to the end of the season. I already see so much improvement in every girl," Coach Garrity said. 
The team, which is currently undefeated in the Sunshine League, is confident that the 2019 season will earn a new entry on the league champions banner in the gym. 
"We're close to reaching our goal of winning league this year, which would be a great accomplishment for the team and for our school," Coach Garrity said.
Leave a Comment
About the Writer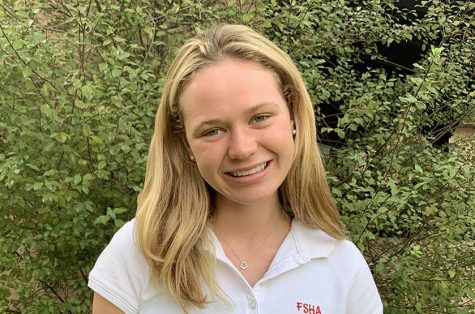 Claire McDonald, Managing Editor
Claire McDonald is the managing editor this year for the Veritas Shield. She started writing for the Shield her sophomore year and served as news editor...