Anxiety apps calm Tologs
According to the Anxiety and Depression Association of America, only about 37% of those diagnosed with anxiety disorders actually receive treatment. Luckily, multiple apps have recently been designed to help relieve anxiety. These apps are a form of portable therapy, accessible at any time. Currently, the most popular apps are Headspace, Pacifica, Happify and Stop, Breathe & Think.
As reported by the National Institute of Mental Health in 2017, 31.9% of adolescents ages 13-18 have an anxiety disorder. Having an anxiety disorder is more than just experiencing nerves before a test or a first date. People diagnosed with anxiety disorders can feel anxious in completely normal settings, affecting sleep, school performance, daily activities, relationships and physical health. Common symptoms include panic attacks, restlessness, fatigue and excessive worrying. 
The Veritas Shield gathered information about these popular apps and got reviews from Tolog users as well.
Headspace
Headspace is an app that guides users through meditation, a method that has been proven to reduce stress. Meditation also helps control breathing, sleeping and focus. The goal of Headspace is to offer quick and easy audio sessions that facilitate meditation and mindfulness and that are available at any time. 
"I rate the app an 8.5/10. It has a lot of options, but you can't access a lot of it because it costs up to $70 to subscribe to the full version." — Joshlyn Aguirre '21 
Pacifica 
Pacifica is an app for anxiety and depression that is based on mindfulness and cognitive-behavioral therapy. It lets users log various types of information, such as sources of anxiety, number of hours slept and mood. Pacifica helps users identify thinking patterns and lists different ways to reframe problems. Additionally, the app has a series of audio lessons and activities that are categorized into four groups: feeling better, taking control, building confidence and building mindfulness. 
"The app is great at helping you track your moods, which allows you to monitor yourself." — Elisa Jimenez '20
Happify 
The purpose of Happify is to help users take control of their feelings through weekly exercises. The app aims to increase the number of positive thoughts users have and to help users overcome negative thoughts. The app claims that 86% of its frequent users have reported feeling happier within two months of starting Happify.  
"Honestly, this app didn't feel beneficial after only using it short-term. I think you'd have to stick with it and really have an open mind." — Eva Casciani '22
Stop, Breathe & Think 
This app begins by asking users how they're feeling. After that, the app provides users with meditation exercises based on the answers users provide to the app's questions. The exercises teach users how to practice mindful breathing in sessions as short as five minutes. 
"It genuinely calmed me down when I was stressed." — Claire Pratt '21
Leave a Comment
About the Writer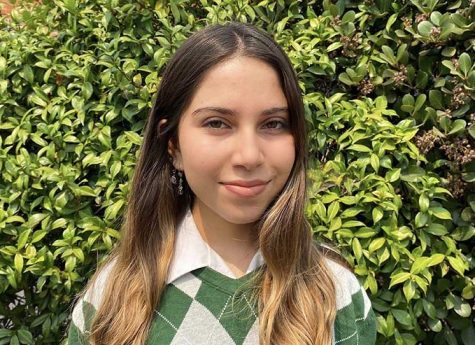 Angelina Arevalos, Community Editor
Angelina Arevalos joined the Veritas Shield during her junior year as a staff writer and now serves as the editor of the Community section. She enjoys...