New coaches take the helm for volleyball
The volleyball teams welcomed new coaches, Hannah Tedrow and Kathy McKiernan, for the 2019-2020 season. Coach Hannah currently coaches the varsity team alongside Coach Trent Tcheng, who is also the returning frosh coach. Coach Kathy coaches the JV team. 
In addition to helping the girls with the physical elements of the sport, Coach Hannah introduces a psychological perspective to coaching. Coach Kathy, meanwhile, brings a youthful energy that allows for a fresh outlook. 
"Hannah and Kathy bring different mindsets and styles of coaching this year," Coach Trent said. 
Ms. Stephanie Contreras, the athletic director, attributes Coach Hannah's approach to her higher education.   
"Hannah is getting her masters in psychology, so not only is she a phenomenal coach of the game, but she is working with the team's mental aspect," Contreras said. 
Coach Hannah wants the team to understand why they do the things they do but also to have a fun time playing. 
"Our coaches do a really good job of providing us with all the information we need to win," Ferryn Drake '20, a player for varsity, said.  
Coach Hannah has had a lot of fun coaching at Flintridge Sacred Heart thus far. She spoke highly of the girls, staff and environment. 
"I love it. It's been a lot of fun, definitely one of the most competitive schools I've coached at," Coach Hannah said. 
On the JV team, Coach Kathy is instructing a team for the first time, having just recently graduated college.
"It's the perfect place to start as a coach. I've learned a lot already. I know these girls are as willing to challenge me as a coach as I am to challenge them as players," Coach Kathy said. 
Coach Kathy's main priorities are focusing on what her players will gain from volleyball as people. She has a lot of goals for the team, such as encouraging them to be the best versions of themselves. 
"I hope, by the end of this, that they will feel like they have improved as individuals in all aspects and that they will gain a little bit more trust in me, considering this is my first year coaching them," Coach Kathy said. 
Milena Andrade '22, a JV team member, described Kathy as having a new perspective on the court. 
"She has a really positive attitude on and off the court and is a really fun person. We're all having a blast getting to know her," Andrade said.
Leave a Comment
About the Writer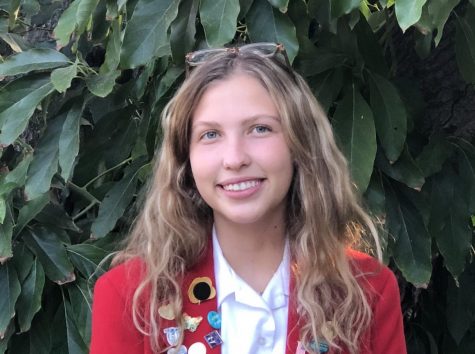 Michelle St. Denis, Podcast Editor
Michelle St. Denis joined the Veritas Shield her sophomore year as a staff writer. This year as a senior, she is the paper's podcast host and editor. Michelle...