Ms. Jones pledges allegiance
Dynamic mother-son duo, Ms. Carol Jones, our math teacher, and her son, Drew Brandon Jones, made the last step towards gaining their United States citizenship by taking an oath of allegiance at the Los Angeles Convention Center on August 21, 2019.
Jones wanted U.S. citizenship primarily for work opportunities. She also humorously remarked about the potential of deportation.
"No one can ever deport me," Jones said. 
Jones revealed that living here had been a life long dream ever since she first visited as a teenager. 
"I was so excited because it had always been my ambition to live here," Jones said.
To achieve her dreams, Jones had to go through a long application process, ranging from applying for a green card to testing her civic knowledge. 
The most important stage, Jones says, was proving that no one could do her job. Jones was teaching at the British School of Houston when she started the green card application process. Jones had to prove that no other American could do her job, because the school that employed her taught using the British education system, which is best taught by a British teacher. To be sure that Jones was uniquely qualified, immigration officials asked the school to interview a range of applicants who applied to do Jones's job. Jones assures the Veritas Shield that nobody who interviewed came anywhere close to matching her skillset. 
Jones was then granted her green card, but she had to have for five years before applying for citizenship. 
"I don't feel any affiliation to the United Kingdom. I don't even want to go back and visit," Jones said. 
After a long wait, Jones finally received her interview with U.S. Immigration Services. The interview consisted of 100 questions about U.S. history. Jones was happy to report that she scored a 100 percent. 
"They asked insane questions, like if I was apart of the communist party,"  Jones said.
After the interview process was completed, Jones was finally given the date to receive her citizenship with her son, Drew, at the L.A. Convention Center. 
"It was kind of like going to a football game with 'Proud to be an American' playing in the background," Drew said.  
When Jones and Drew officially became legal citizens of the U.S., Drew reflected on the last part of their immigration process and expressed his gratitude to his mother. 
"I owe my mum everything for bringing me to the U.S. She is the most amazing person I'll ever meet, and she's accomplished so much in her life thus far. She's a constant inspiration to me," Drew said.
To celebrate their new citizenship and their 14th anniversary of coming to the U.S., the two made very "American" plans. 
"Drew and I went to a Rolling Stones concert, the last British thing we would do," Jones said.
Leave a Comment
About the Writer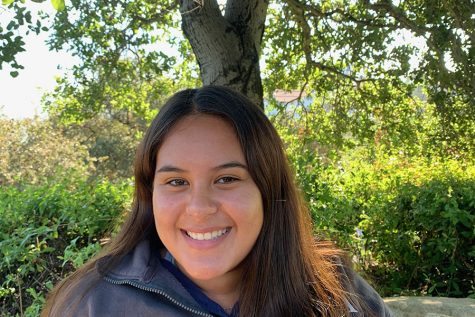 Kiara Hosseinion, Staff Writer
Kiara Hosseinion is a staff writer for the Veritas Shield. When she is not working for the paper, she can be found taking pictures of her St. Bernard,...