'Euphoria': A gateway drug to happiness in high school
As a girl whose parents are constantly berating her for her TV preferences, claiming certain themes are "corrupting her innocence," I am dedicated to defending"Euphoria." Even while the show gets praise from every teenage girl I know, it's also being torn apart by Baby Boomers who don't understand it. So, to combat such ignorance, here's a full-throated defense of why "Euphoria" deserves every Twitter stan account it has.
First, the show's gorgeous visuals portray a dream-like high school suburban experience in a state of decay perfectly: the frame of Jules riding her bike at night down a long alleyway, a spotlight on her in full Harajuku, on her way to the motel; Rue's rotating room at the start of yet another bender; the long pan across the Halloween party and all its chaos to the surreal shot of Jules in her angel costume pulling Rue into the pool — this is a glittery A24 dream world.
Every shot tells a story, and the show's visual style — disorganized, unpolished, inappropriate, shocking, sometimes suffocating and claustrophobic, defined by constant change of emotions and moods and situations — mirrors what a strange and chaotic time high school really is and brings the audience along a beautiful ride of highs and lows. This is perfectly depicted in moments like Jules's club scene with rotating cameras and flashing lights, the "detective" scene that portrays the inner workings of Rue's mind with quick camera movements and the last scene of the show's first season that features… actually I'll just let you watch it. No spoilers.
The producers (including champagnepapi, fka Drake) set the rules and tone for the show so creatively, which would make me respect the experience of watching "Euphoria" even if I didn't like the themes. But, I don't have a problem with the themes. Why would I care when the character writing is *chef's kiss*? It's so apparent that the writers have a unique passion for every character, as shown in each person's cold open at the beginning of each episode. Watchers fall in love as they learn the origin stories of their favorite characters' fundamental identities from childhood to young adulthood. 
The first and my favorite cold open introduces Rue as a child counting tiles on the ceiling, her parents frustratingly not understanding what is happening. Cut to a psychologist listing off multiple possible diagnoses as her mother weeps, then a quick transition to her mom organizing dozens of Rue's new pills, trying to convince her daughter that "plenty of great, intelligent, funny, interesting and creative people have struggled with the same things you struggle with…"  So well done.
The authors focus on each character's backstory and development in such a significant way, bringing light to their multi-dimensional, complex suburban worldviews. Cassie, who probably has the most boring storyline in the show, still had me invested in her character development amidst an unplanned pregnancy. And her skating scene was breathtaking, to say the least. 
The writers do not demonize any of the different characters or seem to make a big deal out of their race, gender or sexuality, no matter how controversial their identities. Rue is mixed race, Jules is a transgender woman and the audience just accepts that they are together. No big deal. Thank god.
I get that the show can be unrealistic sometimes. But, the producers set up such interesting plotlines and characters while continuing to treat them on the screen like they aren't abnormal or controversial. This dynamic of treating the seemingly absurd with normalcy keeps watchers completely invested and entertained. The cinematography, relationships and character writing take shocking themes and make them digestible, entertaining and touching.
But there are some downfalls in the show. Just because I like it does not mean that it cannot be criticized. There is something about the narrated, nostalgic coming-of-age genre that raises the maturity of the characters involved in the story told to an unrealistic point. All these characters seem to be so confident in their identities and worldviews only at age 17, and this just isn't convincing to me. 
And, the show can be cringey. When Kat goes through her dominatrix transformation, and Ethan asks her why she looks different, and she looks straight ahead and takes one headphone off and says, "I changed," I felt ashamed to be a 17-year-old girl, and even more ashamed that I got her in the "Which 'Euphoria' Character are You" Buzzfeed quiz.
But come on: if you're gonna be mad at anything, stay mad that, after "Euphoria," Jacob Elordi is going to have to stoop back down to the "Kissing Booth 2." Stay mad that Zendaya is going to beat your favorite "Big Little Lies" 50-something-year-old for Outstanding Lead Actress in a Drama Series at the Emmys next year. Stay mad that making "Euphoria" makeup jokes are not clever anymore. But don't be mad that after this review, you have a reason to binge this beautiful show.
I'm going to go out on a message to my parents: even John Hughes's version of high school is riddled with disturbing themes of sexual assault, racism and substance abuse. And even though the high school experience portrayed in "Euphoria" might seem jarring, many Gen Z lives are more R-rated than you might expect. At least we are mature enough to find beauty in the artistic portrayal of an experience that, to some, is real.  
Leave a Comment
About the Writer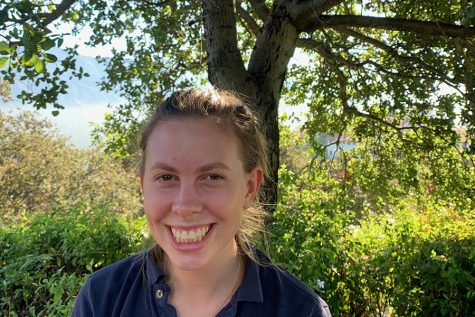 Julia Yellen, Staff Writer
Julia Yellen, a senior at Flintridge Sacred Heart, is new to the Veritas Shield as a staff writer this year but has written freelance for the paper in...