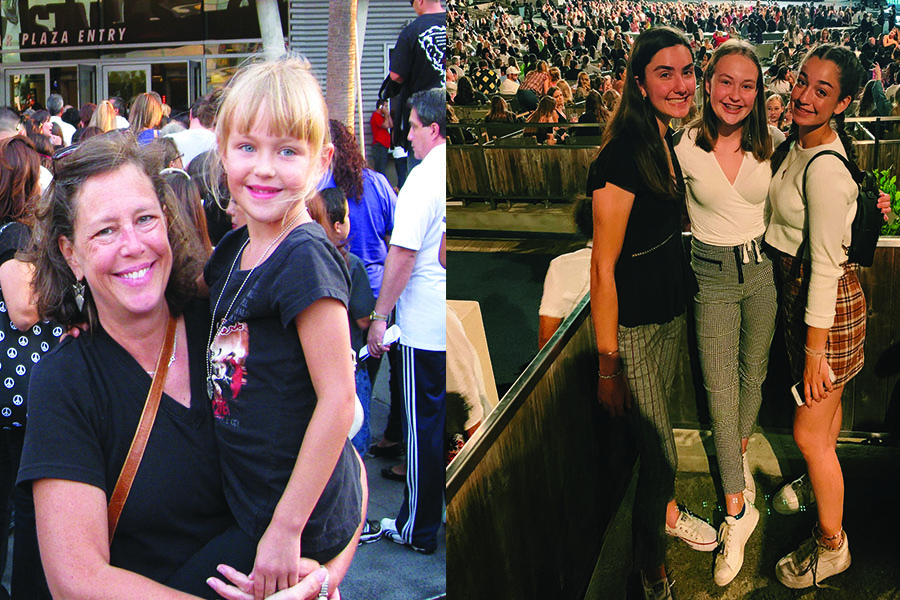 Jessie Mysza
The night of the Jonas Brothers concert in October was unforgettable. The pre-concert hype started as I was walking to dinner in Glendale, and I looked up at the sky and saw a plane writing words across the blue sky. What could it be? Was the plane really writing "Happiness Begins," the name of the Jonas Brothers' new album? Yes, it really was. My adrenaline began to surge, and it didn't stop until I got to the Hollywood Bowl, and I saw him, the charming one, my favorite Jonas Brother, the absolute best of all time, Joe Jonas. 
As soon as the Jonas Brothers walked onstage, I started to scream. The Bowl was roaring, yet I could hear each brother singing perfectly, as if they were angels singing from heaven.
The entire concert was a dream come true. I especially liked the throwback songs, "Gotta Find You" and "Camp Rock." I found myself singing along, and as I did, my eyes kept landing on Joe. Joe's bright pink suit was sparkling, and after the show ended, as the confetti fell from the sky and the fireworks shot off, I made sure to grab as much confetti as I could, especially the pink pieces, because that was the color of Joe's suit. 
Joe's sentimental side really hits me. When I saw Joe in January 2020 at the Hollywood Palladium, he was laughing and smiling, but he also had emotional moments. The emotion was evident when he sang "Hesitate," a song he wrote for his wife. Even though I may not have been right next to him, I felt his emotions pouring into his music. The relationship he has with Sophie Turner, an actress known for her role in "Game of Thrones," is unreal. The two make such a cute couple. 
Joe has been my favorite since day one of the Jonas Brothers, but since seeing the band's 2019 documentary, "Chasing Happiness," I have come to like him even more. When Nick was diagnosed with diabetes, Joe passed out in the hospital room, because he was so scared for his brother. The amount of emotion that Joe showed struck me. Even though it was just a film, I felt his emotions and connected with him. He truly cares for his brothers and wants everyone to be happy.
Another obvious reason for my Joe bias is that Joe is definitely the most attractive brother. From his smile to his eyes to his hair, he has it all. His smile lights up a room no matter where he is. And that face! Everything about it is perfect. Not to mention, throughout the years, Joe has had many different hairstyles. From the straightened hair to curly hair, the blue hair to the blonde hair to the pink hair to the green hair to the dark brown hair, almost everything has looked good on him. The only time I questioned his choices was during the "Camp Rock" ultra-straight hair phase. And, we don't need to talk about his buzz cut. 
Joe, thank you for your music and your personality. You brighten the lives of so many with your humor and compassion. The emotion you put into your music makes it feel like you are singing each song directly to your fans, myself included.